Can we increase appeal for plant-based foods by simply renaming the dishes?
The World Resource Institute, which works together with multinationals like Unilever, NASA and Google, approached Seventy Agency to mitigate the rising trend of meat consumption in China, as beef is very polluting to the climate.
Together, we formed the tasks of generating new names for plant-based dishes to prove that we can increase their appeal simply by renaming them.
This is a very cost-effective and practical way with potentially huge impact. If the WRI, through its network, approaches hotel chains or airliners to make vegan dishes more appealing, a change of e.g. 5% popularity (on a basis of several millions of meals per year in China) would create a huge resource offset. Just by changing names of dishes. Our work is thus applicable to many future cases.
Tasks included:
Cultural research into role(s) of food in China
Selection of categories and dishes
Find out which themes suppress or increase appeal (such as provenance or taste-names)
Generating new names for plant-based dishes
Way of working after initial research:
Determine food categories to rename dishes for
Selecting the dishes to be renamed
Develop naming themes that are likely to increase appeal
Generating several the names per theme per dish
Identifying appealing themes:
Through the research, we discovered many themes and reasons why beef would be valued over plant-based foods, or why certain dishes are appealing. These range from sensory (tasty) to more rational (balance: a healthy meal consists of both meat and vegetables) to emotional (regional names).
As such we selected the following themes for the names:
Tasty (taste, fragrance)
Filling (chew/sturdiness, satiation)
Prestige (status, price (perceived), exclusivity)
Health (balance, vitamins)
Provenance (region, cuisine)
Masculine
We add the category 'vegetarian' also, to test names that are commonly used for plant-based dishes in China. (There is no term that means 'vegetarian', but frequently used for plant-based dishes are 'white flavour' and 'light'.)
Flashcards into names:
We developed the names for the dishes with flash cards on the origins of each dish, where and how it's made, where the ingredients grow and how they are discovered.
Any of that information could be potentially be used in the names. An example is Cheerful eggplant ("开口欢茄") because eggplant is used to make people smile for photographs. Another is "aged tofu curd" ("岁月腐皮") because it takes long to prepare.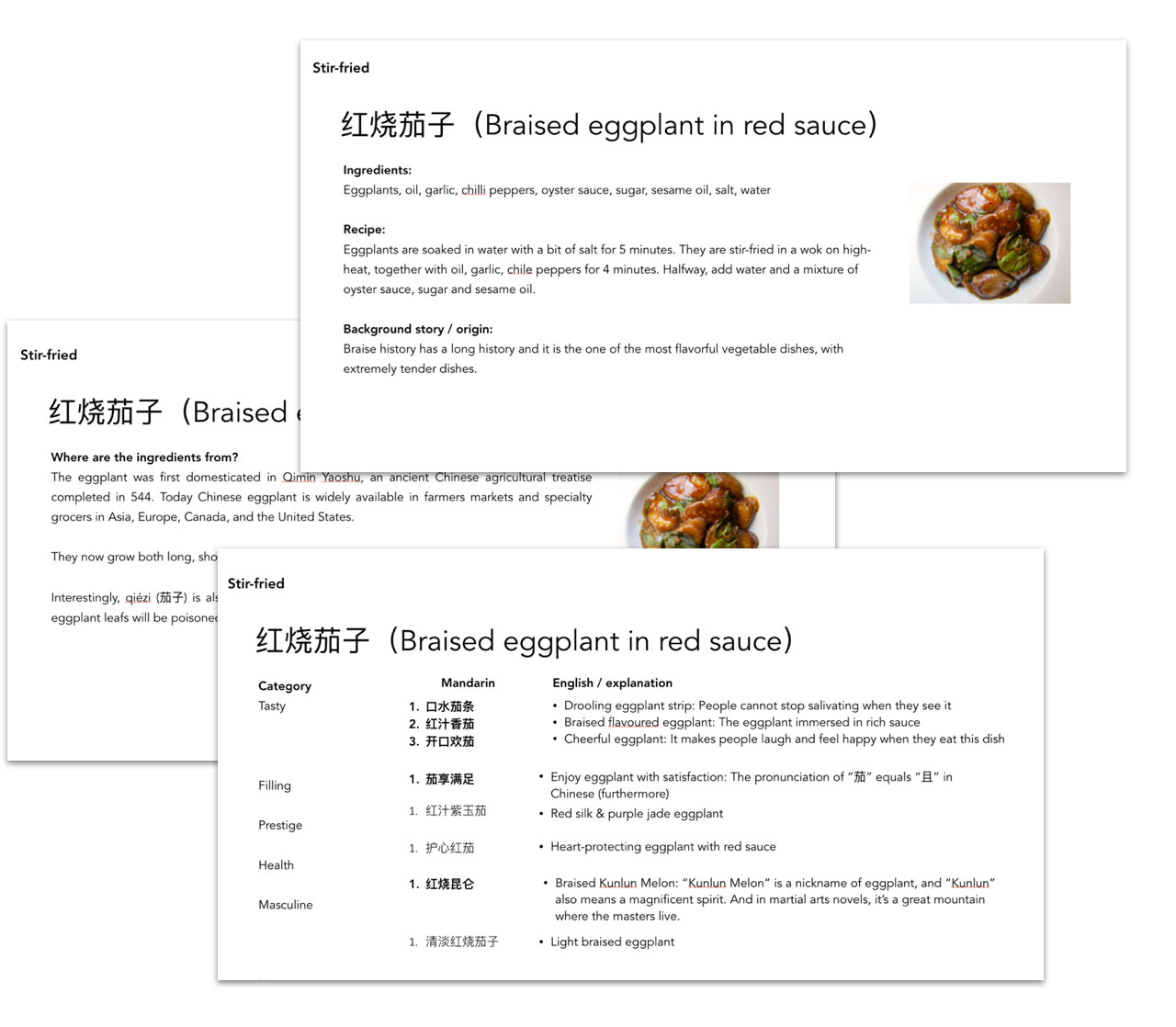 All the final names for testing:
Onto the research:
The names will be tested later this year. For this there are six menus, with e.g. stir-fried dishes, including the renamed vegetarian dish. Because the vegetarian dish has multiple re-names, it will alternate the new names among the correspondents, as well as the default one. We will then see which name creates appeal, and which suppresses.