Western companies looking to expand their business often underestimate the competitiveness of the Chinese market. Often, what stands in the way of success is a lack of understanding on what Chinese consumers value and how they shop. But then there are some that have done their research, made local partnerships, made necessary changes, and earned the rewards. So here's some twenty examples in quick succession.
(This article is also available in Dutch on MarketingFacts)
Hits: Local partnerships
It's a stellar feat to create a market. In the nineties, coffee in China mostly meant chalky instant coffee mixed with boiled water, but since 1999, Starbucks — which acquired the loving nickname 'Papa Star' (星爸爸) — has led the way for fresh grounded coffee. To get a grip on China, it partnered with local coffee chains, such as Mei Da from Beijing, Uni-President from Taiwan and Maxim's Caterers from Hong Kong — which led to opening more than 3400 stores in China already, and planning another 2000 before 2022. The local partnerships also helped staffing almost 50,000 employees.
The same applies to Procter & Gamble. It researched the market in 1985, 2 years before selling — and then partnered with the Hutchison Whampao company from Hong Kong as well as Guangzhou Soup Factory, effectively setting up infrastructure and launching one brand after another (starting with Head & Shoulders and Crest toothpaste). Today, P&G brands Rejoice, Safeguard, Olay, Pampers, Tide and Gillette are the top brands in their categories.
Misses: Lack of research
In 2009, Mattel opened a huge Barbie store on the prestigious Shanghai Huaihai Road, with a spa, hair and nail services and a DJ, but it was a failure because it was modelled for American girls, rather than Chinese. Several reasons hindered success — such as having no visible storefront signage and in-store activities being in English, not Mandarin. But what really hurt success was that Barbie was marketed as 'sexy', instead of 'cute'. As such, Chinese parents didn't approve of Barbie's lifestyle choices, rather spending their money on tutoring and books.
Also Home Depot failed to adapt to the Chinese market when it entered the mainland in 2006, It was lured by the increase of home ownership in China, which are Home Depot's main customers. But it forgot to notice that while Western consumers choose DIY to save money and get satisfaction from it, very few Chinese homeowners actually want to do their own repairs and installations, as they perceive DIY as something for poor people. It also failed to realise most Chinese don't own garages to store tools and ladders.
Unilever tried to introduce Rexona deodorant, lured by 2,6 billion potential armpits, but Chinese consumers mostly ignored it because they don't have Westerners' body odour issues, and don't perceive sweating as something bad: it cleanses the body. Neither did tampons become a success in China, despite Proctor & Gamble's attempt to introduce Tampax in 2000 — because unlike sanitary pads, tampons are considered invasive. Neither could Weetabix get Chinese to choose cereal for breakfast.
McDonald's first restaurant in China opened in 1984, expanding from Hong Kong into the mainland. It didn't tailor its approach to Chinese consumers and marketed with promotions and events themed around Ronald McDonald and its other characters. While it did appeal to parents and children, it stood in the way of a bigger expansion because McDonald's became known as a childish place, which was highly undesirable less than a decade after China had rolled out its one child policy. Proportionally, there were simply a lot less children than in Hong Kong or in the US.
P&G's initial introduction of the Pampers brand was a flop. In 1997 it introduced cheaper version of their 'Western' product, assuming that parents would simply buy them if they were cheap enough. But Chinese parents had no use for them. Instead, Chinese children typically wore a 'kaidangku', a open-crotch pants that allows kids to relieve themselves quickly. The cheap Pampers were perceived as 'irritating plastic'.
Hits: Tailored approach
Pampers eventually launched a new product in China in 2006, named 'Pampers Cloth Like & Dry' with more fabric and less plastic. It started selling, but sales really skyrocketed when it launched the 'Golden Sleep' campaign in 2007, claiming that babies sleep better in diapers, which could be better for their cognitive development. Chinese parents were highly sensible to this argument, and sales sky-rocketed.
Whereas Home Depot failed, IKEA succeeded in taking Chinese consumers by the hand. Since home ownership and home decoration was something relatively new in China, consumers didn't have prior experience with it, and didn't feel confident in their own choices on style. Hence, IKEA focussed on Scandinavian design rather than do-it-yourself, and let its showrooms play an important role, basically educating Chinese consumers on how to decorate bed-, living- and bathrooms. IKEA's service then included delivery of the products as well as installation. Because of this, IKEA stores in China are usually in shopping malls, rather than outside of cities as in the West. Deliveries are much faster than in the West, in days rather than weeks.
There are many other examples of successful tailored approaches. Because China lacks a sport culture, brands like Adidas and Puma successfully shifted their focus from sport to culture, fashion and celebrities. These nuances make a lot of difference.
While Starbucks' interiors in China are indistinguishable from Western branches, the differences lay in its offerings. Beverages are served at warm rather than the scorching temperatures that Europeans like, and Starbuck has succeeded in tailoring its flavours to the Chinese market, such as red bean scones, mooncakes, and green tea latte.
Kraft is another company that learned to adapt to the local market. It initially misfired with Oreo, but eventually conquered the cookie market by reducing the package size from 14 to 7 cookies, making it easier for consumers to try it. They also made cookies less sweet, and set up a department dedicated to researching local tastes, introducing dozens of tastes such as Green tea ice cream, Birthday cake, Mango/orange for Oreo, and beef stew flavour for its Ritz crackers. It expanded distribution beyond supermarkets to include convenience stores, and introduced a product specific for China, chocolate-wafer sticks, which also sold well. Kraft went on to introduce Tang, a drink sold in powdered and liquid-concentrate form, and after learning many Chinese drank it hot instead of cold, it adapted its in-store promotions around this.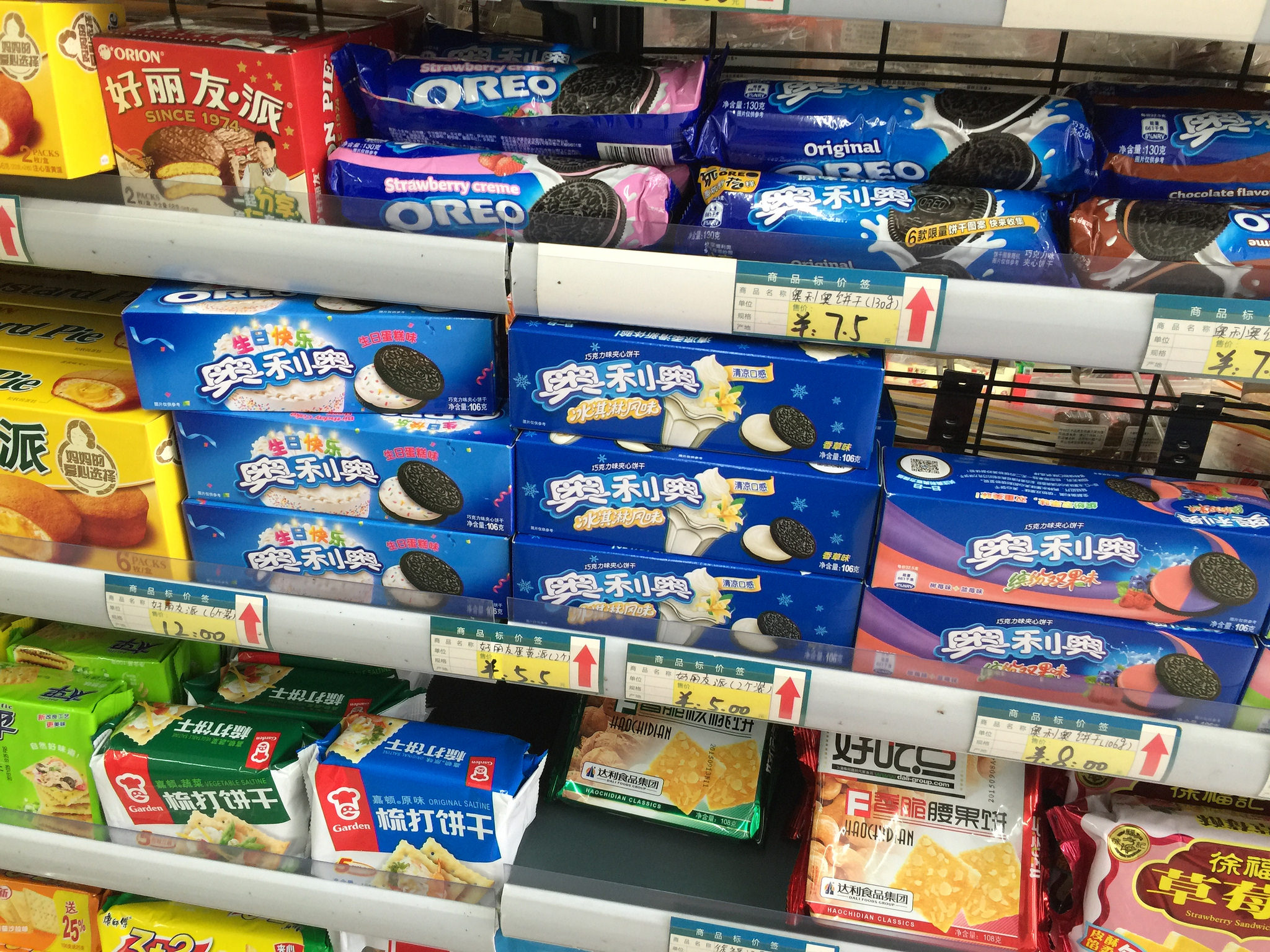 Wrigley is successfully selling cucumber-flavoured chewing gum, which is now sold in nearly all convenience stores. rather than mint-flavoured, while 5Gum gained popularity by selling watermelon flavour. Häagen-Dazs entered market success by selling mooncakes. Lays noticed its potato chips sales were consistently low in summers, and subsequently created 'cool' flavours such as cucumber, selling those in hot months. For the Sichuan region, which loves spicy food, it introduced the flavour 'numb and spicy'.
When KFC arrived in China in 1987, it attracted customers by its Western lure, while at the same time adding to its menu egg tarts, soy milk drinks, fish and shrimp burgers, fried dough sticks and congee. But in general, Shanghainese found KFC's food too spicy, while in Sichuan they found it dull. Ultimately, KFC met success by offering different levels of spiciness across the country, which makes sense when you realise China has over twice the landmass of the European Union and three times as many people. KFC now has over 5000 restaurants in 1100 cities and over 30% of market share (while McDonald's sits at 15%).
Montblanc tapped into the hearts and minds (and wallets) of Chinese consumers by selling its expensive watches through a WeChat game. Moon Phase let users enter their date of birth for a reading on their personality based on the lunar cycle, which is very important in Chinese culture. For the results, Montblanc worked together with the famous astrologer Wang Xiaoya. It's important to realise that such a game may not work in the West, but in China it reached over 10 million people.
Misses: Inappropriate adaptation
There are times when adaption for China falls flat. Many global fashion brands such as Victoria's Secret, Burberry, Givenchy, Louis Vuitton and Dior are all accused of using Chinese culture in a tacky or cheap way in their products, which consumers found inappropriate. Nike wrote its name in Chinese characters on the back of its 2016 Air Force 1 model, which is usually reserved for fake copies of their shoes. Dolce & Gabbana dressed out its models in a stereotypical Chinese fashion, which was definitely not seen as a tribute, but rather a mockery. Ferrari launched a limited edition 458 Italia and in a promotion video it did a burnout on a 600-year old wall in Nanjing, prompting rage of netizens. Johnny Walker released a set of four bottles that create a picture, while four is an extremely unlucky number in Chinese (as it sounds similar to 'death'). Chanel showed its inaptitude by launched a bag inspired by the takeout box in American Chinese restaurants, that had nothing to do with restaurants in China, and also they used the insultingly stereotypical Chinese font.
Mark&Spencer retreated from China since consumers found it too average and too much 'UK housewife'. Similarly, Asos failed to grasp the imagination of Chinese shoppers, while its China adventure was riddled with numerous problems, one of them being ill-fitting for Chinese bodies (something Maia Active purposely tailors to). It also sold very limited garments, wasn't able to introduce new pieces regularly, and was simply too expensive.
Hits: High visibility
It's a lack of visibility that partly hindered Unilever's attempt to introduce Rexona, because showing off is difficult to do with products nobody can see. Chinese consumers are extremely brand literate and brands like Apple, Chanel and Starbucks have succeeded by catering to Chinese who love to show they've made it. Both Apple and Starbucks stores are in highly visible and high-traffic locations. Showing off is so important that some Chinese prefer sitting in a traffic jam every day, just to show they own a BMW.
Misses: No match for Chinese competitors
When Google was introduced in China in 2006, it fought a head-to-head battle with Chinese search engine Baidu. Baidu invested heavily on internet cafés, which most Chinese consumers used to get online in the 2000s. It paid the cafés a fee to have Baidu installed on the homepages for high visibility, basically becoming the norm, in China. Baidu also catered to Chinese internet users by providing free and unlicensed mp3 files easily through its search. As a foreign brand, Google didn't dare to do this, but over 20% of Baidu's traffic came for its MP3's, which aided its dominance even before Google was blocked in 2010.
In 2002, eBay took the Chinese internet by storm and became the biggest consumer-to-consumer marketplace. But in the early internet days, Chinese consumers were afraid to lose money on transactions to individuals, so Taobao quickly invented a transaction service that holds funds until the product is actually send, soothing the fears and massively gaining marketshare. Much later did eBay introduce a similar thing, but it's marketshare had already plummeted from 74 to 10%. It shut down its China site in 2007.
It's a similar story for Amazon. It entered China by buying Joyo in 2004, Chinas biggest online book seller at time. It failed to innovate much further, and was usurped by Alibaba's Tmall, that instead of being a centralised reseller like Amazon, acted as a virtual mall for brands to sell directly to the consumer through its platform. Amazon.cn now sits at 0.8% marketshare, with Tmall well over 50%.
And when Airbnb landed in China in 2015 it was the biggest in its industry, but it was quickly overtaken by Tuija, which was much more adaptive to the Chinese market. Tuija partnered with real estate developers to rent empty houses (there are a lot of them in China) and function as intermediaries to rent the houses out, without the need of the home owners to do anything. Tuija did the cleaning, door lock installation and even helped with the furniture.
Uber started a partnership with Baidu for maps, and had an aggressive approach in paying Didi drivers a bonus if they switched to driving for Uber. It introduced a highly affordable side-app called 'People's Uber' that subtly courted the Communist Party — but it still went on to lose over two billion dollars before ceding defeat and merging into Didi. There's no obvious reasons, apart from an overly heated market (also ride-sharing competitors Yida Dache, Yibu Jiaoche and Yaoyao Zhaoch lost out).
Conclusion
China was once seen as a hugely untapped market, but this is no longer the case. Quartz writer Erik Gordon once compared the Chinese market to the gold rush of the 17th to 20th century — which is a good parallel. Not everyone would find gold, and those rushing in head over heels had the odds firmly stacked against them. For most Western companies, success in China is definitely possible. Yes, companies such as Facebook and Twitter seem incompatible with China on a fundamental level, but even Google is set to prove even this can be worked around. For most brands it starts with not underestimating the challenge.