Lots has been written on apps like WeChat or Tmall, but rarely articles zoom in on details. I'll pick four functions here showing how well everything works together. These apps are not thrilling, but extremely functional. Mind you, these functions are used daily — not just by people handy with phones but most people between 15 and 60.
Scheduling a football field in WeChat
I'm in a WeChat group with guys from the neighborhood who like football. Usually, the chat is quiet until someone suggests having football tonight, then chaos erupts!
Once a time is settled, one person goes to the WeChat account of Suzhou's sport center. He selects a small football field at 20:00 tonight. Then that invitation is shared in the group, embedded into the rest of the chat.
When I click on that invitation, it takes me to that 'mini-program'. Within one view, I can see the time & place, who else registered, and register myself. There's also a timer: the invitation has until 19:30 to get 10 people to register. If not, the whole event is canceled.
But that's no problem, it's 15:00 and ten people have signed up. Everyone pays individually within WeChat (20 RMB). And when the reservation is complete, everyone gets a notification as well as the code for the door to enter the field.
Tmall returns
Last Double Eleven, I bought some thick sweatpants (for above football training) at discount — but the size wasn't right. Luckily returning goods on Tmall is super easy.
I go to my delivered goods tab, click on returning goods, and there select I want to change (so that the discount still applies), and the reason is that I want a bigger one. I can choose for a delivery guy to pick it up at my house for 20 RMB or walk downstairs to the mail office for 8 RMB (thanks to the population density, these centers are always super near).
I go downstairs, and there a guy helps me reseal the package, add a new address sticker, and done. The great thing is I don't need to re-add my address or anything: the app already has that information.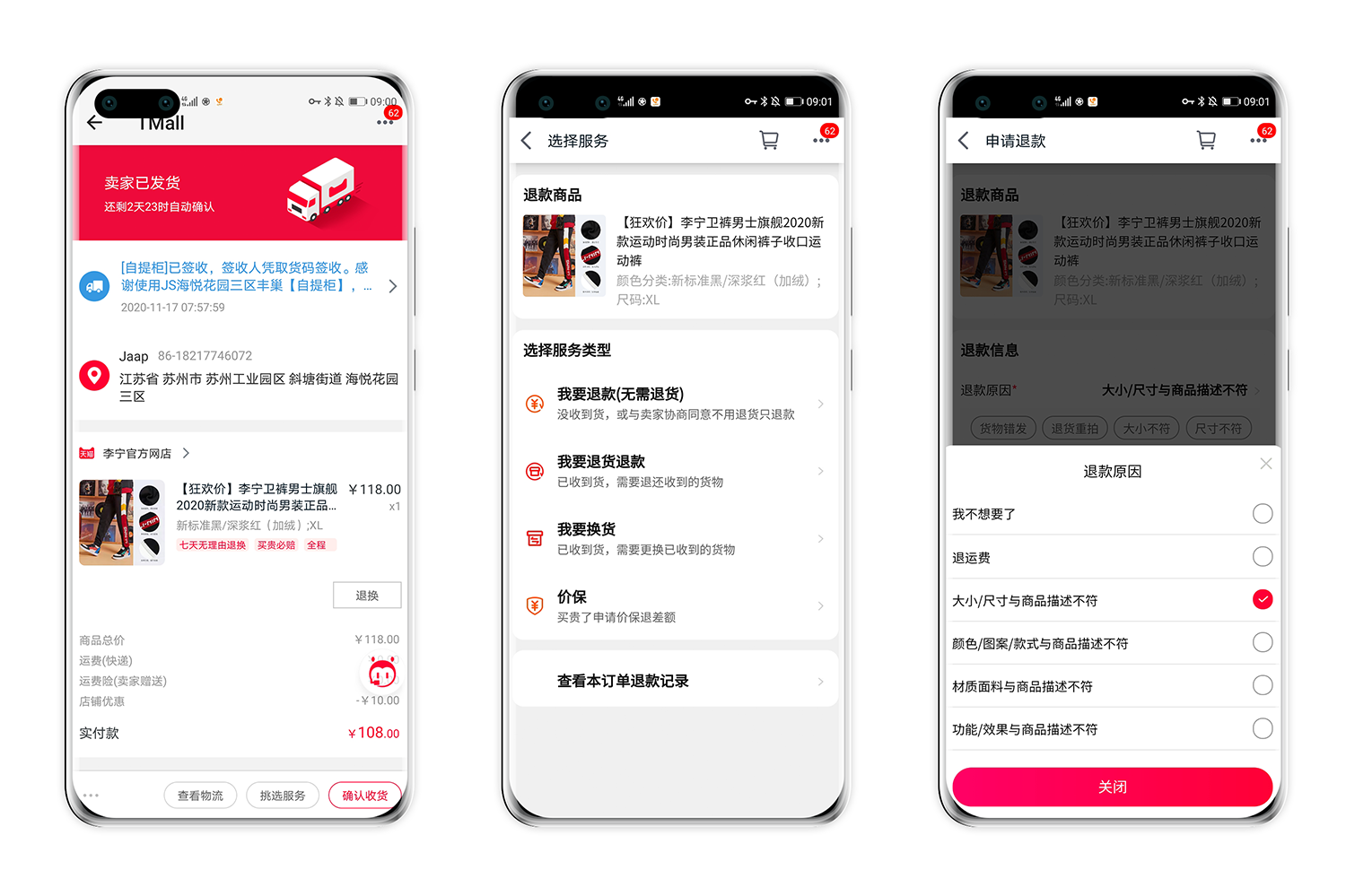 Dianping
大众点评 a massive app that people use to find something to do. At first, I didn't see the point, but now I can't live without it. I use it for finding restaurants, museums, parks, etcetera. Everything is reviewed: people leave stars and photos or videos. You can also use it to get tickets, package deals, or book a table. That last one I'm doing now for this Thursday.
I go to the restaurant section, select 'Reserve a table', select the time & date, then click the category 'Good for dating' and use other criteria to narrow down the choices (without filters, the most expensive one recommended is 1800 RMB per person, ouch).
I pick the Veggie Bar, leave my number and done. The post-submit screen says the restaurant will probably confirm the reservation within an hour — and beneath that there are recommendations on what else we can do before or after dinner in the area (such as KTV).
Little Genius
This app 小天才 (Little Genius) is connected to a smartwatch for kids. I registered in English and no there seems no way now I can change it to Chinese, but the app is the same.
Kids in primary school love their smartwatch because they can (video)call their classmates to discuss homework, parents love it because they can keep track of their kid (as well as call her or him).
The key functions are (video)calling, the location of the watch, a chat room for the whole family, and a private chat for the child individually. The smartwatch uses a simcard, so you're also informed when your kid receives a call from another number or SMS.