Monday morning, December 23rd, 1985. The underground train travelling from Hammersmith to Baron's Court is filled with people setting out for work or Christmas shopping. Among the latter is an old man of Asian origin. He's wearing a suit jacket, gilet, tie and polished black shoes. The carts rumble through the humid and warm tunnels as the man's subtle smile suddenly changes into an expression of pain. He falls forward from his seat. Two men rush towards the man to help, a third hesitantly joining, and when the tube arrives at Baron's Court, the man is brought to a hospital, where it becomes clear he has died from a heart attack.
The men of the carriage are questioned by the police. "Do you know who this man is?". "Sorry, no", they say. The nurse searches the man's pocket, in which she finds a handwritten note in some strange foreign script. It is sent to the University of London, where it is identified as Thai, the note being addressed to a Birabongse Bhanudej Bhanubandh. The Embassy of Thailand in London was notified, and only then did it dawn among those involved that the man who had died was the forgotten hero Prince Bira.
This is his story.
"The road was clear and beautiful in front of me. I felt within me that urge, the sensation of speed, the feeling of tearing up the fine cool morning air as I got up to speed. I was out of sight of the pits and was making for the village of Gueux. As I changed up to second gear, I felt perfect in tune with everything, with the roaring of the exhaust echoing loudly among the nearby buildings."
These are the words from Prince Bira, reminiscing a July morning in 1939, practising at the improvised circuit of Rheims-Gueux. Bira was into his fourth year of motor racing, having been brought in contact with the sport by his older nephew, Chula Chakrabongse. Chula, like Bira himself, wasn't a direct heir to the Thai throne yet a royal nonetheless, with plenty of time and money to spare. Chula had moved to England in 1920 to study in London and would later start a racing team, called White Mouse Racing.
Birabongse Bhanudej Bhanubandh, or Bira, was born six years after Chula in 1914 as the grandson of King Mongkut. Bira's mother died when he was four, and with his father being occupied with as Commander-in-Chief of the Thai-Siamese army and setting up the Thai postal service, Bira and his brother and sister, Abhas and Rambai, were raised by the family's staff.
Perhaps all the ingredients for Bira's motorsport career were present in his childhood. Abhad and Bira raced bicycles around the palace, setting out their own obstacle courses, and Bira's chauffeurs used the royal car park to show him how to change the sulphur in the headlights of an old Stover car, and what all the instruments on the dashboards were for. One of his chauffeurs, Chai, raced Bira and Abhas around Bangkok in an Oakland car – "I felt we were floating on air!", Bira once reminisced – and in parking lots, Chai would let Bira sit on his lap and let him steer the car. Aged eleven, Bira could drive the car alone and drove his sister around the royal gardens.
But along with the wonders of the automobile, Bira was also introduced to the inherent danger that cars possessed. As a child, he was involved in a car crash when Chai entered a road without looking right and escaped peril again when another chauffeur drove the Oakland into quicksand.
Following Chula's path to studying in England when he was thirteen years old, Bira waved his father goodbye in the harbour of Singapore. That was the last time he'd see him as his father died not long after.
One of Bira's illustrations of Romulus and himself.
Bira arrived in England in 1927 and was put under the care of Chula, who became his legal guardian. Bira first wanted to study at Cambridge University, but then decided upon art academy to learn sculpting and drawing. It was a display of Bira's haphazardous interests, which he displayed throughout his whole life. Bira would take up soccer, rugby, running, tennis, badminton, cricket, golf, fencing, billiards, boxing, darts, skiing and so much more. He wrote books, recollecting his racing years, and even illustrated them himself. He made models of cars and railways and drew and painted landscapes. Some of Bira's sculptures were exhibited at the Royal Academy in London. He flew gliders and aeroplanes, and he drove race cars. That last hobby was perhaps his only constant interest.
Bira's racing fever was ignited in 1934 when Chula took him to an open practise session at the now forlorn Brooklands circuit near Weybridge in Surrey. Bira was amazed by the sound and speed of the racing cars. The two cousins later attended the RAC Tourist Trophy held at the Ards circuit in Northern Ireland, and there, after talking to famed driver Edward 'Eddie' Ramsden Hall, Bira decided he wanted to be a racing driver.
But Chula, fully aware of the dangers, was reluctant to let Bira compete in racing events. Nonetheless, Bira bought a Riley Imp and with Chula's permission and with help of White Mouse Racing, the Imp was modified into a racing car. For its colours, Bira chose the light blue which he had spotted on a dress worn by a young Danish girl named Barbara. Thanks to this encounter, the light blue, accompanied with yellow, would grow out to be Thailand's official racing colour. Bira learned to race by driving the Imp over and over, as well as watching his competitors. Bira analysed their lines and how they steered their vehicles, their body positions and where their eyes were pointing to.
The very first racing experience came unplanned, as it was an act of impulse. Chula and Bira drove their Siamese blue Bentley passenger car to the 1935 24 Hours of Le Mans, to spectate the night practice ahead of the race. The two drove to the Mulsanne straight and wanted to park it when other spectators thought the Bentley was a competition car. They cleared a pathway to the track and Bira, feeling confident, steered the Bentley onto the legendary circuit with Chula frightened in the passenger seat.
After five corners Chula begged to get out of the car, clarifying that he had never been this afraid in his whole life. With Chula out, Bira continued to race around while the other competitors joined the track. In his standard passenger car, Bira passed many race-trim competitors, and wrote in his memoirs, "they must have wondered what I was doing there, having no number on the car!". Bira battled with a certain Alfa-Romeo, losing position on the straight but regaining it each lap through the corners later on the lap. Only when he returned in the pits, he found out it was Raymond Sommer who drove it, who had won the endurance race for Alfa in 1932 and 1933.
Raymond would write to Bira four years later, in 1939, inviting him to compete at Le Mans by joining his works Alfa-Romeo team, yet Sommer's and Bira's race was a disaster. After seven laps the race was effectively over, as the Alfa team had to replace the engine, with reports that Sommer lifted the motor out of the car singlehandedly. Sommer and Bira continued to race through the night, regaining some positions before the new engine died too. Sommer would keep in contact with Bira until he died in 1950 when the steering of his Cooper failed at a race at Circuit de Cadours in France.
Back in England, Bira was motivated by his mischievous, but impressive, performance at Le Mans and entered his first race with the Riley Imp, but it turned out a disappointment. The Imp proved too slow and from the get-go, Bira was confined to a role as a backmarker. The Imp was quickly replaced by an MG Magnette that was gifted by the founder of MG himself, Cecil Kimber. The Magnette was a leftover having been refused entry papers for the Mille Miglia of 1935, but like the Imp it proved uncompetitive.
Bira then befriended Pat Fairfield. Pat was from South Africa and was a younger, yet more experienced driver, having already won some local races in England. Initially, Pat's father didn't allow him to race, since he didn't consider racing a proper job. Pat opened a motor business, selling and repairing cars, and then raced under the pseudo-reasoning of marketing his business. Pat drove an ERA R2B and recommended Bira to talk with Raymond Mays, the founder of ERA.
Raymond, or Ray, delivered the R2B personally on Bira's 21st birthday. He named the sky blue voiturette 'Romulus' after the founder of Rome and the two became partners: "He and I sat out to face the world together." Bira wished Romulus good night on evenings before races, and during races would pat his bodywork and encourage him to go faster. "I might have been one of its pistons for all I cared, so completely did I feel I was part of him", Bira wrote.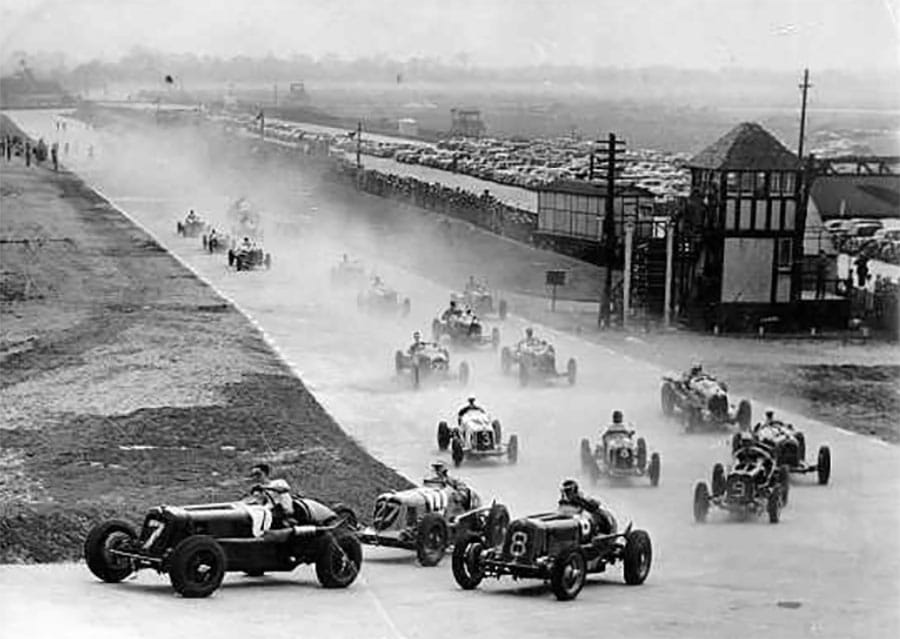 Bira (#27), behind Peter Walker (#7) and beside Arthur Dobson (#8), in one of the many races at Brooklands, 1937.
At the Dieppe circuit in France, Bira prepared for his first race, tutored by Ray, Pat and Richard Seaman. That weekend Pat won the race, the 7th Grand Prix de Dieppe, while Bira drove to a sensational second place despite having to stop for new spark plugs. The result launched Bira and the White Mouse Racing team into fame, with everyone talking about the spectacled Oriental driver.
Bira's Romulus sporting the number 17.
Chula became Bira's pit manager, keeping charts on lap times and fuel consumption. The two cousins often exchanged looks when the light blue car passed the start-finish line, and occasionally Chula held up chalked signs in non-interpretable Siamese writings: "FASTER" or "PIT NOW", or "OK" or "FIVE MORE LAPS". Chula remained White Mouse Racing's manager, making the team operate smoothly and selecting the races on the calendar which he felt fit.
After the race at Dieppe, Bira and Romulus continued to impress in the Voiturette class of European racing, matching and sometimes beating more powerful cars, collecting a second place at Bremgarten, a fifth place at Donington and third at Brooklands.
Bira's first big win came the next year, in 1936, at the Coupe du Prince Rainier de Monaco, a pre-program to the Monaco Grand Prix. Through avoiding the carnage and never pushing the Romulus beyond it's RPM limitations and led the race as others retired: "The thought of doing something stupid and losing the lead nearly choked me", he would recall later. Afterwards, Bira wrote on winning: "It was great, it was terrific, it was a colossal feeling which practically burst my heart." Chula, in his own memoir, wrote: "That night, Bira, Lofty, Shura and I sat together, half amazed and half satisfied by the victory. There was nothing to say."
Bira remained good friends with Pat Fairfield. The two would race together in a fierce battle during the Grand Prix de Picardie in 1936, the two being a class of their own. Pat lead the field for dozens of laps with Bira on his tail. Chula held up the chalked sign "THREE LAPS TO GO" and Bira commenced his attack, having saved Romulus for most of the race. Bira's and Fairfield's ERA's raced inches apart on the back straight, the crowd cheering them along. Any mistake would be fatal.
With two laps to go, Bira slipstreamed passed Fairfield, but Fairfield outbraked him in the last corner – "I felt such a fool for letting him pass me like that", recalled Bira. On the final lap, Bira crawled up to Pat's car again and attempted to pass as Pat suddenly cut across: "It made my blood run cold". Bira avoided a collision by going onto the grass. He passed Fairfield again and was ahead at the last corner of the race when Fairfield, in a desperate attempt to regain the lead, outbraked himself and shot between Bira and the apex, rammed his car into the grass embankment and was thrown out of the car.
While Bira stormed to the finish, Fairfield, who had narrowly dodged a telegraph pole, ran back to his car and still finished in second place. Afterwards, the two laughed about it. Fairfield had escaped death that day, but a June afternoon in 1937, Chula and Bira opened a Swiss newspaper in Lausanne and saw the announcement of Pat's death after a crash in the 1937 Le Mans race. Pat's memorial at Donington was designed by Bira himself.
In the few years before the war, Bira bought a second ERA R2B, which he named Remus (after Romulus' brother), an ERA R12B named Hanuman (after the Siamese ape god), and Maserati 8CM and a highly modified Delage 15-S-8. The cousins spent so much of their money on upgrades for the Delage, that when it proved uncompetitive it sapped their team's finances in a bad way.
Together with the White Mouse Racing team and Chula, Bira raced on all the famous tracks of Europe, winning major trophies like the JCC International Trophy, the Picardie Grand Prix, the Albi Grand Prix, the Campbell Trophy, the International LCR, the London Grand Prix (twice), the Coronation Trophy, the Cork Grand Prix, the Nuffield Trophy (twice), and the Sydenham Trophy.
Bira and Romulus at the 1937 Isle of Man TT.
As a true gentleman racer and humble privateer – "The idea briefly flashed into my mind that I had some skill!" – Bira loved the social aspect of racing, the weekends, the preparation and the chats with his audience and his mechanics, Stanley Holgate and Lofty England. Bira didn't smoke or drink ("If I was at a drinking party I could be ten times more 'drunk' than the rest, just from drinking plain water!"), and travelled with his terrier called Joannie and packs of PK chewing gum. It was Bira's laid back nature that highly suited the racing of that time. He didn't push and overheat the engine, and didn't drive too recklessly when so many of his competitors died in accidents: "Enjoy yourself and keep on the road, for there is always another race to come!", was the life motto he came to stand by.
Not that Bira was immune to crashes. In 1936 he shunted into a low wall at the dangerous circuit through the Irish city of Limerick but escaped unharmed. That same year he crashed Hanuman practising at Rheims-Gueuex and was bedridden with a deep cut in his thigh. A rock at Donington shattered his goggles and injured his left eye. During the 1936 Nuffield Trophy at Donington, Bira drove an Austin Seven, provided by Lord Austin himself, but burned his overalls and his left arm badly when the red hot exhaust broke. With half the race left to go, and with Chula screaming "Keep going at all costs!", Bira finished fifth. In 1937 he raced with a fever during the Cork Race, and as a re, ult he overshot a corner. Bira was launched from the pavement, his car ramming a telegraph pole which snapped like a matchstick and coming to a halt a hundred meters down the road. It was a miracle that he escaped unharmed but nonetheless angry with himself for stepping into the car in such an ill state.
The last race before the Second World War was the 1939 Sydenham Trophy at the now gone Crystal Palace circuit. Bira competed against Hans Ruesch, who was driving a full-blown Maserati Grand Prix car with twice the engine capacity of Bira's Romulus. Ruesch's Maserati was mighty fast on the straights but had such a long wheelbase it practically had to come to a standstill at the sharpest corners of the circuit. Romulus was fitted with double rear-wheels, an idea copied from George Abecassis' Alta, and with a daring move, Bira took the lead and won the race. "The spectators must have been so surprised seeing the blue and yellow car win, but I can assure you, no-one was more surprised than myself", Bira said after the event. He also won the sportscar race that weekend, driving a Delahaye. Since Bira won both events, but not the soapbox race held elsewhere in London, a newspaper jokingly headlined "BIRA DID NOT WIN SOAPBOX RACE!"
In August that year, Bira was preparing for the Imperial Trophy, but being too distracted by the news of the world and the upcoming war, White Mouse Racing choose not to race. Bira also planned to organise a race in his homeland, Thailand, and the inaugural Bangkok Grand Prix was set to be held on the 10th of December 1939, but the war equally destroyed those plans. During the war, Bira and Chula lived quietly in Cornwall, with the cars stored for a five-year long rest.
In the summer of 1946 when the engines roared again and racing resumed. Bira won the Ulster TT with Hanuman, and with the Maserati, he won the 1947 Chimay Grand Prix. In 1948, Bira fought a heroic battle in the dunes of Zandvoort in the first ever Dutch Grand Prix with Tony Rolt's Alfa-Romeo. Rolt and Bira battled side by side for forty laps on the twisty circuit, where Bira beat Rolt by 0.1s on the line. Bira was all smiles, and with Rolt on the back of his car, the two did their parade lap.
Yet with racing becoming more professional, Chula and Bira began to feel the financial strain of being a privateer competing against the factory teams of Alfa-Romeo and Maserati. When Bira was offered a drive with the Gordini team, Chula advised him to sign it.
Not that Gordini was a top team by any measure, but Bira did show promise in the pre-war T11 model, driving it to victory in the lightweight class of the Grand Prix of Reims, and victory at the Manx Cup at the Isle of Man. In 1949, Bira joined the team of Enrico Platé who fielded pre-war Maseratis and won the Swedish Grand Prix and the 1950 Richmond Trophy at Goodwood. After enlisting for the newly formed Formula One World Championship in 1950, Bira proved no match for the mighty Alfas of Fangio and Farina. He took points in Monaco and Switzerland and finished eighth in the standings.
But Bira's interest in racing waned. Perhaps it was because he no longer raced for Chula's team, or maybe it was the string of bad results from 1951 to 1953, which came from driving slow and unreliable Gordini and Connaught cars. A skiing accident that caused Bira to miss the final three races of 1952 didn't help either. In 1954, Bira's racing fever briefly livened up when driving a competitive Maserati. He took points in the French Grand Prix (having sensationally led the race for a while), and won the unofficial Grand Prix at Chimay. In 1955, he won the unofficial New Zealand Grand Prix in Auckland, after which he sold his Maserati and retired from racing.
Bira at Silverstone in the Maserati A6, 1953.
Bira and Romulus in Thailand.
Since coming to England as a teenager, Bira had returned to Thailand many times, the most important one being his marriage to Ceril Heycock in 1938. Chula gave Ceril and Bira a cheque to furnish their home, however, Bira spent most of it on new car. Whenever Bira brought Romulus with him to Thailand, the two were welcomed as heroes, both adorned with flowers.
With his retirement from racing, the 41-year-old Bira moved to Thailand permanently, although he kept a base in Europe in the form of a sailing vessel in Cannes. In fact, Bira was a rather serious sailor, competing at sailing at four consecutive Olympics in Melbourne, Rome, Tokyo and Munich. From 1956 onwards, Bira ran many companies in Thailand including an airliner, but most of his businesses failed, as did his marriages. He married six times, re-marrying with Ceril after a 34-year hiatus.
Until 2001, Prince Bira was the only driver from Southeast Asia to ever compete in Formula One, until he was joined by Malaysia's Alex Yoong when the latter joined Minardi. Yet as of today, Bira is the only Siamese-Thai in Formula One history. For most of his career, Bira drove in outdated or underpowered vehicles, and he was robbed of his best years by the outbreak of war. He could drive a car, no doubt, yet he wasn't quite of the calibre of which surrounded him by the time Formula One was formed. Bira had raced the post-war champions Juan Manual Fangio, Giuseppe Farina, Alberto Ascari and Mike Hawthorn, and pre-war heroes like Rudolf Caracciola, Bernd Rosemeyer and perhaps the greatest of all, Tazio Nuvolari. Farina once said to Nuvolari, "Following you is a reward itself, because every time I follow you round the course I learn something new!".
Perhaps life was one big weekend to Bira. Always in fine clothing and never in a bad mood, he was the postcard example of a gentleman racer, an enthusiastic privateer that helped build the sport. In one of his books he wrote, "I thank my stars for the lucky day on which I was born, for all my wishes seemed to come true."
Chula died of cancer in 1963 at the age of 55, while Bira suffered his fatal coronary in 1985, aged 71. According to Thai and Buddhist customs, Bira was cremated in a ceremony held at the Wat Buddhapadipa temple in Wimbledon.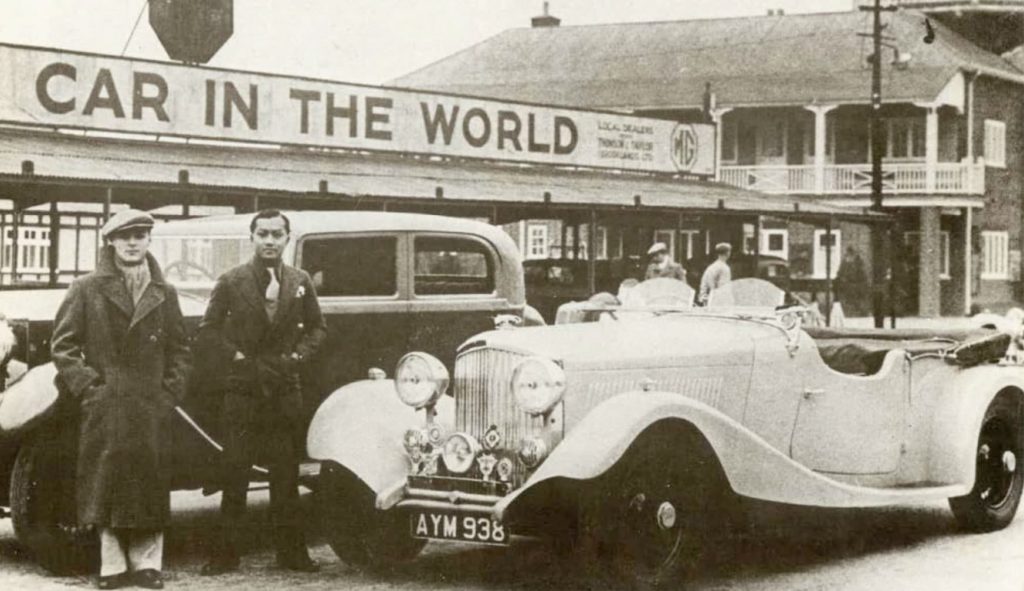 Chula and Bira at the Brooklands circuit clubhouse with their Bentley.