So after Tai'an (泰安) our next stop is the city Zibo (淄博), although more by name rather than perimeter.  Luziyu (鲁子峪) is a small town on its own, made up of several villages.
From Tai'an we choose to take the taxi instead of the high-speed train. It's slower and pricier, but the scenery is a million times better.
Our driver is a local lady who lets us call her 大姐 (big sister): "大姐出发!" (Big sister departs!). Right away she starts talking about petrol prizes and how her taxi, like many others in Tai'an, runs on liquid gas: "Petrol is so expensive now, it's hard to make money (driving a taxi)."
Big sister tells us that many taxi drivers are thinking to convert to LPG now because of the petrol prizes,  or upgrading directly to an electric car, given how fast they're becoming normal: "There's a model now that is possible for us (taxi drivers) to buy, I forgot the name."
But she's a fan of LPG, even though her tank is only big enough for 200 kilometers — 150 if she uses the air conditioner (which she sometimes turns off & on). So halfway we top it up, and the whole way we're on the lookout for fuel stations that have LPG.
Big sister says the houses here are pretty expensive too. "Well, for our salary," she adds. Especially close to Mount Tai, houses cost 30,000 RMB per square meter. But since there's no business here, most people have mostly left: "It was busier before covid, two years ago. More tourists. You're also the first foreigner I see in two years."
Covid is a big part of this journey. There's a checkpoint where I show the paper printout of my covid test (the app in Shandong doesn't work for foreigners), and Big sister says it's very empty on the highway because there's a covid outbreak in the city Heze (菏泽) — and even though it's far away, people don't really want to travel.
We stop at 笔架山. The tourism board shows the English name of 'Beacon Mountain' even though from Chinese you'd translate it as 'Pen Rack Mountain' — a more memorable name if you ask me. The mountain only has two reviews on the app 大众点评, but that's part of the charm for us.
Big sister waits for us in the car. Except for two seniors harvesting peppers (花椒), we see nobody. There isn't even a store or vending machine for water. And because direction signs are missing (poles still standing) we choose not to go to the summit.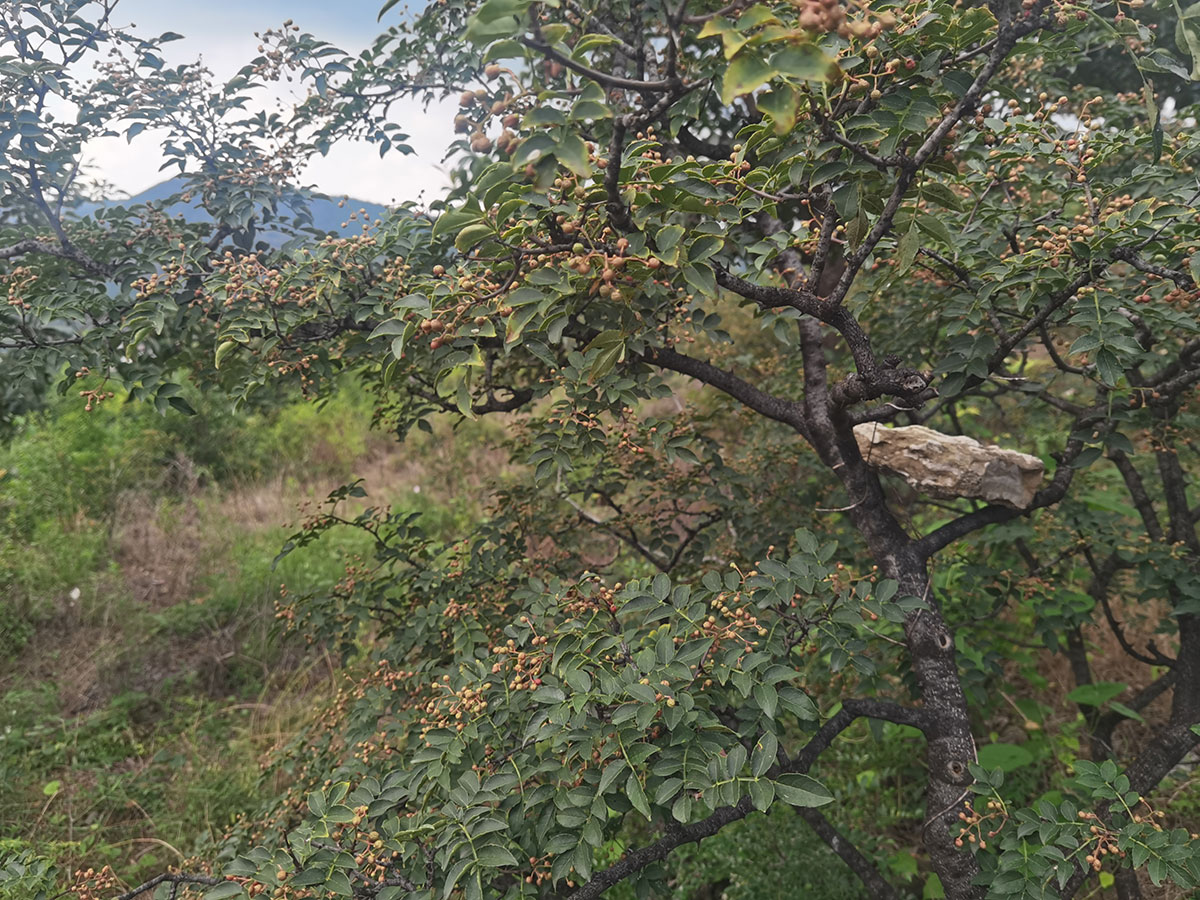 At the foot of the mountain, we see 鹅池 (Goose Pond) and 观音庙 (Temple of Guanyin), which is mostly an empty hall with statues, although the ceiling is occupied by birds with nests in all the corners. There's also a tiny temple covering a Confucius statue. There's also a stone that apparently looks like a fox, called 狐仙石 (Holy Fox Stone).
Back in the car, we cross Laiwu (莱芜) which is the geographic center of the Shandong province, and up and down mountain roads. It's only 80 kilometers but the app says two hours. These roads are windy and slow, but beautiful as well. I could have asked Big sister to stop a hundred times to take photos, but each time I decide not to. Kids playing in the river, aunties hanging bed sheets to dry, seniors playing cards in the shadow.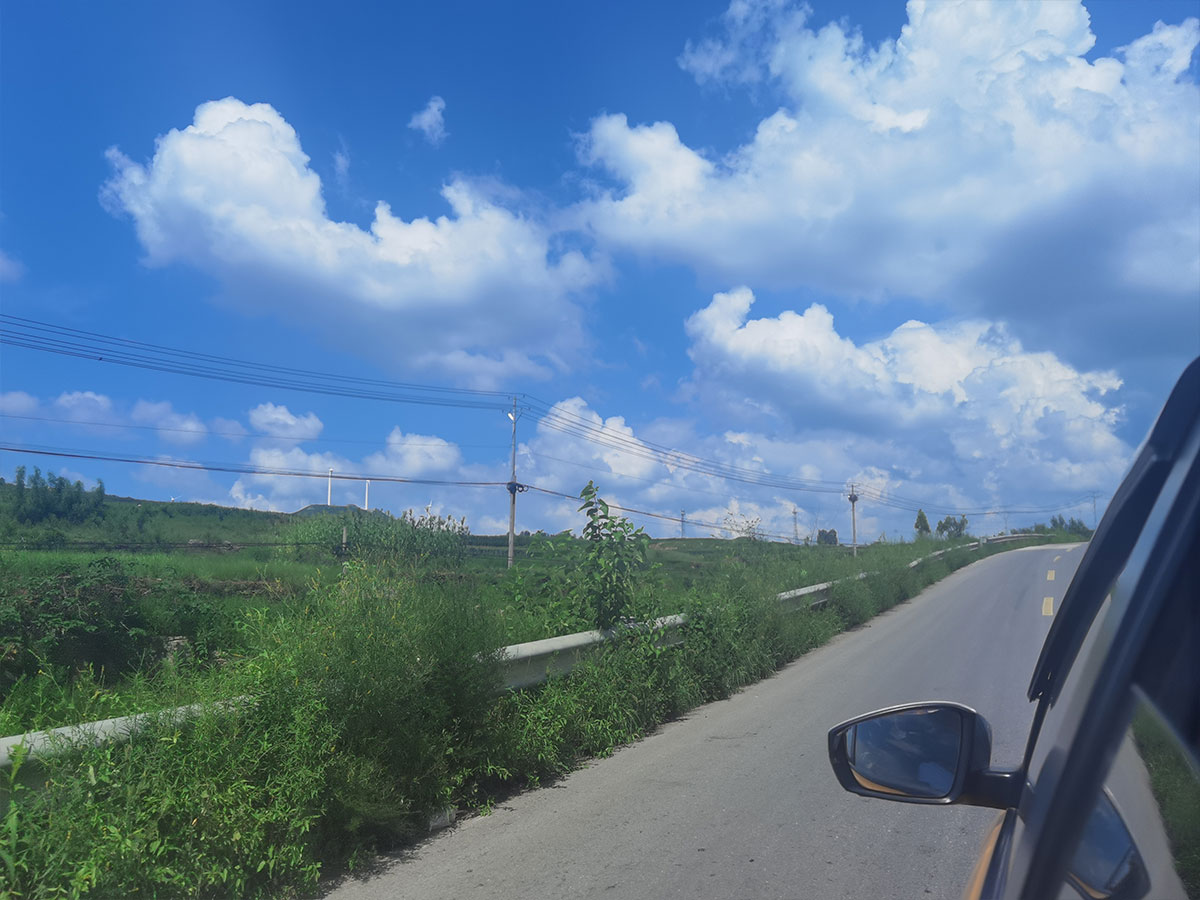 Luziyu
We arrive at our destination and say goodbye to our driver, and after dropping our bags we continue on foot. Kids and parents are playing by the river, and we come across a group of seniors, and I can't totally understand their accent but it's clear they want to show us something. "Is it far?", "No no no!" It's only a hundred meters and two aunties open the temple for us to have a prayer.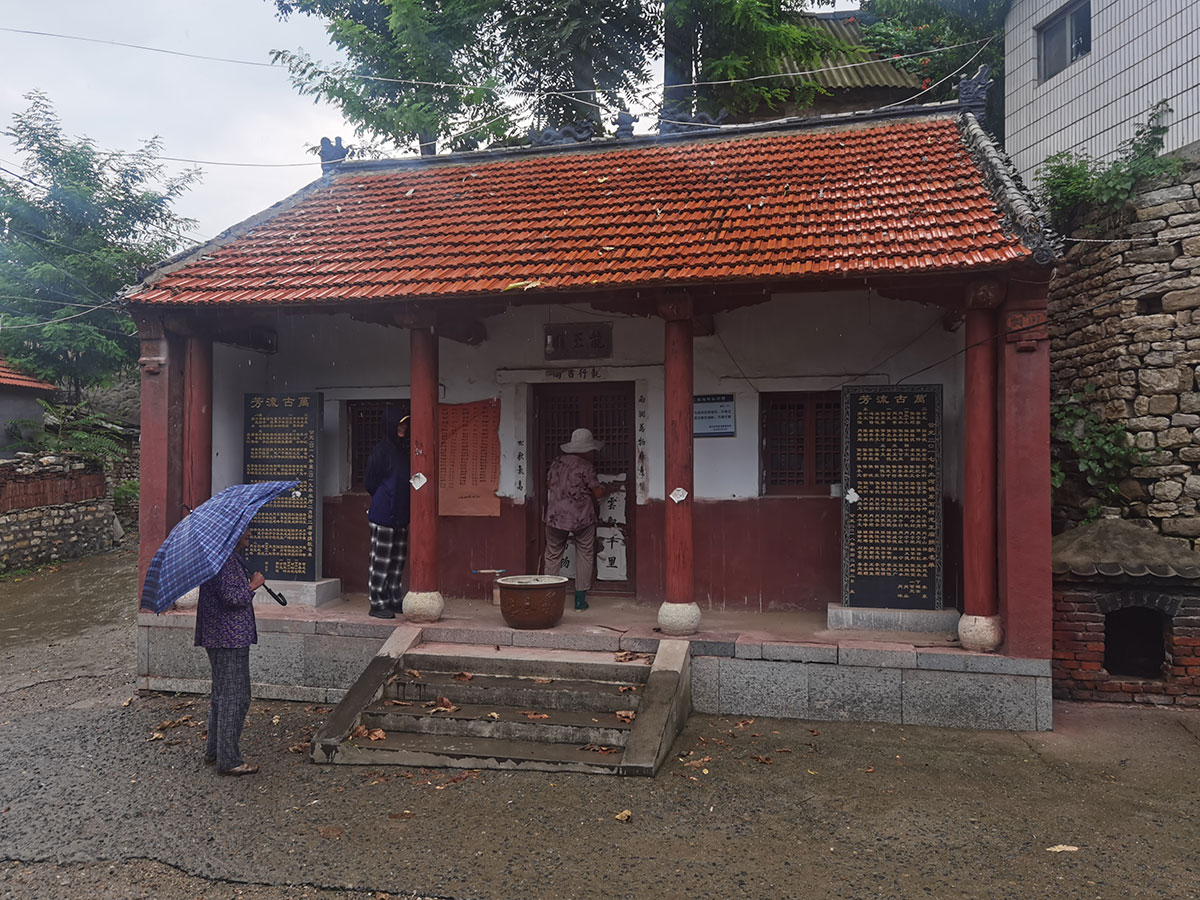 Next to the door is a list of names and who donated what, on the collection date of March earlier this year.
We walk further across the river and see a waterfall which we hear someone say has 仙水 (holy water). Or it's just very clean: "Yes, you can drink it!", but most people just stop to wash their cars.
Later we come across a board that explains how in 2018, the village was selected as a national-level ancient village, and in 2019 was selected for the 'Beautiful villages in Shandong' project (山东省美丽村居战略). Another board proclaims the village as a popular tourist destination. The lamp posts still say "中国梦" (China Dream) but the plans all predate covid.
Yes, we see public toilets and a fake windmill. But the tourists haven't come. A shop owner cites covid as the reason: "People don't want to travel, too scary or 麻烦 (trouble) with all the PCR tests."
Later we meet a yeye, who talks about how a few years ago, the village had 1500 citizens, but now all the young people have left and less than 500 people remain. We pass the city hall, which looks like it could house all of them.
The sun is about to set and we're now in the part of Luziyu that is called 四石村 (Four Stones Village), but our hotel is in 东石村 (East Stone Village). Yeye looks at our shoes first and then says there's a path to Dongshi, but it's muddy after the rain. But our shoes will do.
Back in the hotel and after a meal and shower, I take one look out of the window before going to sleep. I see something that is impossible to see in Shanghai, namely total black darkness.